High-quality rice. Natural water. And the people.
Traditional method of brewing sake in Niigata.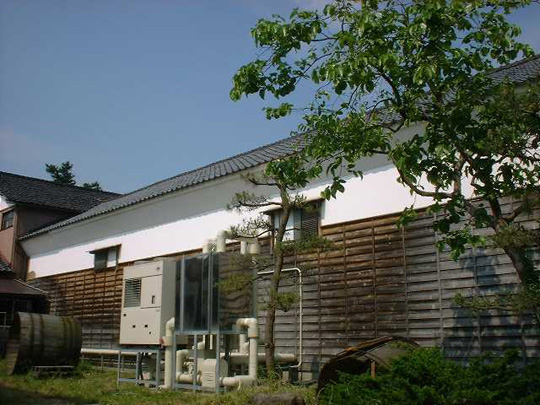 About Us
Founded here in 1912. Uchinomachi, where our storehouse is located, is located to the west of Niigata City and is also known as the city of Niigata University.
Since ancient times, the underground water of the Shinano River has been abundant, and it is a land blessed with good quality water. You can overlook the grade separation of Nishikawa, which is a tributary of the Shinano River, and Shinkawa, which was dug manually 200 years ago, and you can feel the history of the rich breadbasket.
Our brewery is made of old-fashioned clay walls, and the temperature difference between the four seasons is small, making it an environment suitable for sake brewing. The 25 brewing tanks are equipped with an automatic cooling device to thoroughly control the temperature of stored sake as well as fermentation control of mash.
Commitment to sake brewing
The brewing tank uses sizes from 650L to 6500L, and the brewing scale is from 150kg to 1600kg of white rice, and the system allows fine temperature control for all products from Daiginjo to ordinary sake. The basic taste is aimed at a light and crisp sake that allows you to feel the original taste of sake even if it is dry numerically.
In order to make local sake familiar to people all over the world, we are actively working on the development of sake for overseas and local manufacturing cooperation overseas.
A 5-minute walk from JR Echigo Line Uchino Station